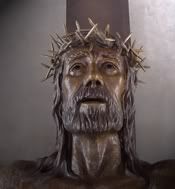 THIS IS ONE POST IN A SERIES.
Journey with me as I embrace a wonderful devotion based on Our Lord's Passion and Death - The Fifteen Prayers of St. Bridget of Sweden.
St. Bridget of Sweden desired for a long time to know the number of blows Our Lord received during His Passion. Jesus revealed to her:
"I received 5480 blows upon My Body. If you wish to honor them in some way, recite fifteen Our Fathers and fifteen Hail Marys with the following Prayers (which He then taught her) for an entire year. When the year is finished, you will have honored each of My Wounds."
To learn more about St. Bridget of Sweden, visit
Catholic Culture
.
Note: For many years these prayers were published with twenty-one promises given to St. Bridget. These promises offered wonderful graces and benefits to those who recited the prayers. In 1954, the Holy Office in Rome issued a Monitum prohibiting publication of the twenty-one promises. The Holy Office warned that the supernatural origin of the promises had not been proved in any way. For more information, read:
Magnificent Prayers, Yes — Magnificent Promises, No
.
************************************************************************************
Fifteenth Prayer
Our Father - Hail Mary
O Jesus! True and fruitful Vine! Remember the abundant outpouring of Blood which Thou didst so generously shed from Thy Sacred Body as juice from grapes in a wine press. From Thy Side, pierced with a lance by a soldier, blood and water issued forth until there was not left in Thy Body a single drop, and finally, like a bundle of myrrh lifted to the top of the Cross Thy delicate Flesh was destroyed, the very Substance of Thy Body withered, and the Marrow of Thy Bones dried up.
Through this bitter Passion and through the outpouring of Thy Precious Blood, I beg of Thee, O Sweet Jesus, to receive my soul when I am in my death agony. Amen.